My First Human Mom Kerrie got writded about in a NOOSE-PAPUR! Look look look:
Published on Sunday, August 10, 2008

Meet the horse whisperer
Kerrie Regimbal has been saving doomed horses for four years; now she is starting an outreach program to pair those horses with kids in need of self-esteem
by Erin Snelgrove
Yakima Herald-Republic

http://www.yakimaherald.com/stories/6623
SELAH -- No one in her family liked horses. But that didn't stop Kerrie Regimbal from growing up to become their savior.

"I've been passionate about horses my entire life," the 48-year-old said. "They are magnificent animals. They are so beautiful."
For the past four years, Regimbal has actively worked to rescue starved, abused and neglected horses and find them new homes. She's rescued more than 30 horses so far, several of which live behind her Selah home.

She and her husband, Bob, are now doing even more by establishing a new, nonprofit program called Kidz N Horses. The goal of the program, Kerrie said, is to boost children's self-esteem by having them groom, clean and tend to the animals. The couple hopes to target kids who have a troubled home life.

"We're not counselors," Kerrie said. "We just want them to be comfortable, feel safe and have a good time."

Kerrie began rescuing horses because she couldn't bear the thought of them suffering. She's seen videos showing horses at feedlots being stunned and hung upside down to bleed to death. Even pregnant mares are slaughtered this way, she added.

"Death is not quick," she said. "It's not humane like cattle. ... It's very awful."

So rather than having horses meet this fate, she'll buy them, rehabilitate them and match them with new owners. She finds some horses at feedlots. Other times, people call her seeking help.

"They're still good; they shouldn't be thrown away," she said about the horses. "They can't help the situation they've gotten into."

One such rescue was Butterscotch, an old palomino with an attitude.

"She was just a diva," Kerrie said. "She thought she was the most beautiful horse you've ever seen and deserved to be pampered."

Kerrie gave Butterscotch to Melanie Case, who was training to be an equine masseuse. Case owned Butterscotch for two years, before the horse died last winter. To this day, Case is thankful that Butterscotch was a part of her family.

"Butterscotch and I got along fine. It took awhile for us," said Case, who lives in Cowiche. "I felt like I was helping her a little bit. I don't think she had a great life before Kerrie got her."

Jaimi Schmidt of Selah also appreciates what the Regimbals are doing. A mother to four young children, she has known Kerrie since the fifth grade. Not only did Kerrie teach her how to ride, she gave Schmidt a rescued quarter horse named Gypsy a year ago.

To Schmidt, there's no one better to work with horses and children than Kerrie.

"I think she's found her calling," said Schmidt, adding that Kerrie has the right mix of patience, caring and respect for horses and children. "She has a lot of love in her heart. She's always been that way."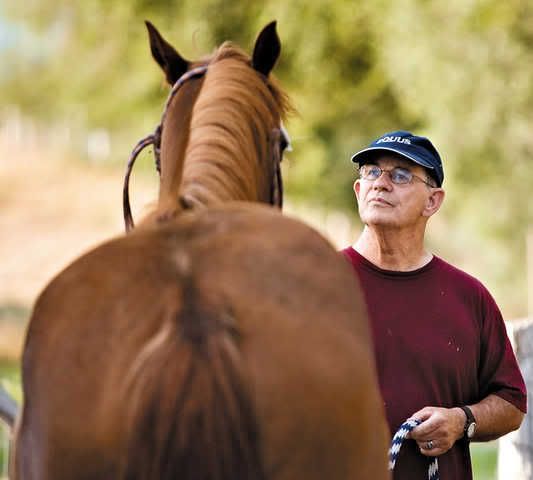 The Regimbals' house is a teen hangout. Even when her three kids aren't around, Kerrie still comes home from her job as a judicial assistant to find a slew of teenagers parked in her kitchen.

That gave her the idea of providing an outlet where kids can work with her horses.

"It's for kids who have been neglected or abused, or kids with no problems whatsoever," Regimbal said about her program, Kidz N Horses. "Any child is welcome."

Much of her inspiration came from attending clinics at the Crystal Peaks Youth Ranch in Bend, Ore. That's when Bob, her husband of eight years, began sharing her interest in starting a similar program.

"My experience is pretty limited. I've only been around horses since Kerrie," he said. "They will do just about anything for you, as long as they know what it is and they are not fearful."

The secret to rehabilitating horses is listening to them, the Regimbals said. They watch the horses' ears, hooves and head for indications of their moods. They never use harsh, painful discipline to make the horses obey. Instead, they take their time getting to know the animals, proving to them that humans can be trusted.

The Regimbals share these techniques with children who, in addition to learning safety, spend time petting the horses, cleaning their stalls and taking them for walks.

"Children have a sense of responsibility, ownership, belonging and pride in what they're doing," Kerrie said.

One such participant is Austin Herren of Selah. Now 14, he's known the Regimbals since he was 5. Not only do the horses keep him out of trouble in school, he said they give him a needed lift when he feels depressed.

"I like riding them and petting them," he said. With them "you can leave all your other emotions at home. You can come here and relax, take a little vacation."

The Regimbals want their fledgling program to grow. To that end, they're seeking to move to a place where there's more land for the horses. They're also hoping to attract more participants by contacting local schools, youth groups and social service agencies.

"It's limitless," Bob said about the program. "We're Christ-led. However big he wants to go with that, that's where we'll go."



* Erin Snelgrove can be reached at 577-7684 or esnelgrove@yakimaherald.com.



WHAT: A Selah outreach program that pairs kids with rehabilitated horses, teaching children responsibility, ownership and pride in caring for the animals. Parents are encouraged to watch their kids interact with the horses.

WHEN: Sessions are by appointment only and are offered on evenings and weekends.

COST: Free.

MORE INFO: Contact Kerrie Regimbal at 509-307-6168 or kidznhorses@yahoo.com.